en:tp:email:clients:outlook2016
Table of Contents
Microsoft Outlook 2016/2019
Requirements
Operation System: Microsoft Windows 7 or a newer Windows version

Office Service Pack: Microsoft Office 2016/2019

You own an e-mail account in the Exchange-System of the Jade University
First Start of Outlook After the Installation
During the first request after installation, the assistant for e-mail accounts starts and supports the set-up of the Exchange account.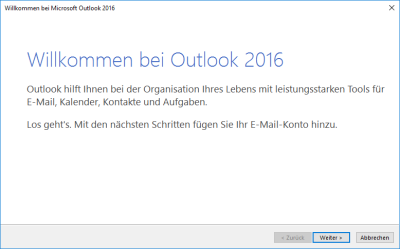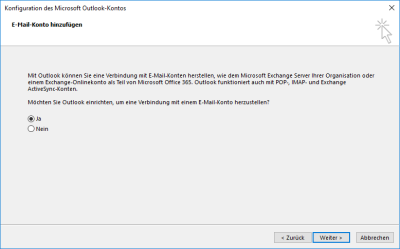 Adding A New E-Mail Account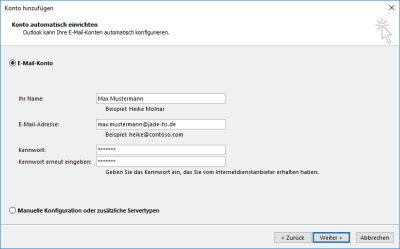 After the confirmation (Button: Weiter > [ENG:"Next"]), the first page requests basic information in order to set up the e-mail account.
First, type in your name into the input box Ihr Name (ENG:"Your Name"), followed by the e-mail-address of your Exchange account.
Type in the password, which you use to log into your Exchange inbox, into the input boxes Kennwort eingeben (ENG: "Enter Password") and Kennwort erneut eingeben (ENG: "Enter Password again").
After input / confirmation (Button: Weiter >) of the information, the assistant searches online for the server settings of the e-mail account.



Furthermore, the assistant repeatedly requests the exact login details for the Exchange server.
To do so, you need to select the option Anderes Konto verwenden (ENG: "Use different account") in the appearing window. Starting from Windows 10, this option can be selected via Weitere Optionen (ENG: "Further Options").
Next, you need to enter your username (PC-login) in the form loginname@hs-woe.de (e.g. ma1234@hs-woe.de) and the respective password.
Provided that all information could be calculated correctly, the assistant signals the configuration of the Microsoft Exchange account as successful.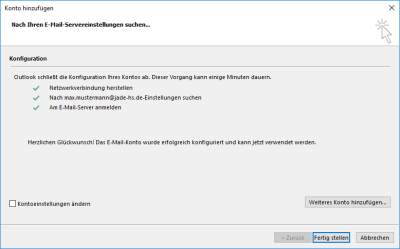 To finish, close the configuration assistant.
After closing the assistant, Microsoft Outlook will be started and a connection to your Exchange account will be established. Data between the Exchange servers will be synchronised with Outlook.
en/tp/email/clients/outlook2016.txt · Last modified: 2021/07/05 12:39 by gu1111
---