en:tp:time-tracking:start
Table of Contents
Time Recording
At Jade University, working hours are recorded for certain groups of employees using the "Prime WebSystems" product from Primion Technology AG.
If you have any questions about the content of your time registration account, please contact your responsible HR officer.
If you have any technical questions, please write an e-mail to the University Computing Center.
Prime WebSystems
The time recording system of the Jade University can be found at https://primion.jade-hs.de/primeweb/. You can log on to the time recording system website with a user name and password. You will receive the registration data via email after the system has been set up. If you do not know your login details, please contact your responsible employee in the HR department. If you have blocked yourself from the system due to multiple incorrect entries, write an e-mail to the university computing centre here.
The Prime WebSystems web application is optimized for Internet Explorer 11 and Mozilla Firefox (version 38-52).
Time recording terminal
There are time tracking terminals at all study locations of the Jade University of Applied Sciences where you can make time bookings using your service ID card.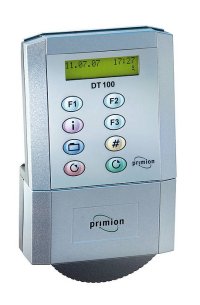 Green come button: book come

Red go button: book go

Blue suitcase button press 1x: Go on duty

Press the blue suitcase button twice: Come on duty * Purple i-key: account query

Purple i-key: Account enquiry

Yellow # key: Balance for previous day

Press F1 key 1x: Go time compensation

Press the F1 key twice: Time compensation coming

F2 key: acutely ill go
en/tp/time-tracking/start.txt · Last modified: 2022/07/03 12:23 by vi1005
---