You are not allowed to perform this action
Network
In the course of network modernization, authentication for wired clients becomes necessary in these areas. This is to be compared with the authentication at the eduroam.\
To use this function the following steps are necessary:\
Start the service "Automatic configuration (wired)" and change the startup to "Automatic".

Change the settings of the adapter "Ethernet".
Start the service
Click on Start –> Windows Administrative Tools –> Services. Locate the "Automatic Configuration (Wired)" service and right-click to access its properties. Change the startup type to Automatic and then click Start and OK.
Adapter settings
Via Start –> Settings –> Ethernet you can change the adapter options. Please select your LAN interface and right click to open the properties.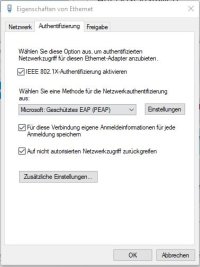 Please set all value as shown. The next step is the settings of EAP (PEAP).

Please set all values as shown. It is possible that you have only one T-TeleSec certificate. Click on Configure and make sure that the checkbox is set. Then click OK.
On the "Properties of Ethernet" please select the option Additional settings …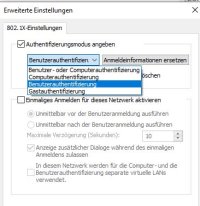 If your computer is a member of the Windows domain, select the User or Computer authentication option. The computer will then be automatically logged in. If this is not the case, select the User authentication option. Here you can store a login in the form mu1111@hs-woe.de.
Please restart your system afterwards.
en/tp/network/start.txt · Last modified: 2021/05/03 18:12 by vi1005
---