Table of Contents
Cisco AnyConnect
The university computer centre provides a VPN connection for Windows, Mac and Linux computers.
Installation
The installation of the AnyConnect client is done via the following link:
VPN Server
This page requires a login, this is the university login in the form ab1234.\\. Please confirm the corresponding access profile with "Continue".


According to your operating system, you can now download the client.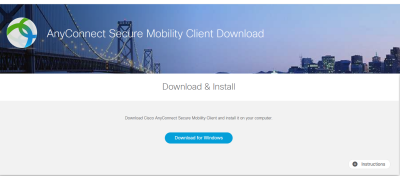 Please save the installer on your client.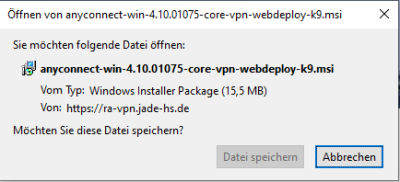 After successfully downloading the client, please install the Cisco AnyConnect Client on your system. To do this, please follow the instructions of the installer.
Use
To establish a VPN connection to the university network, please start the Cisco AnyConnect client on your system. After starting, please enter the address of the VPN server. This is ra-vpn.jade-hs.de, you only have to enter it the first time you use it.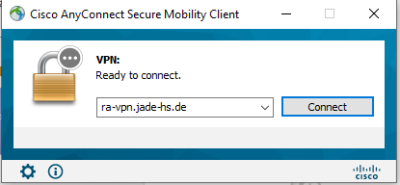 Please enter your access data in the short shout…

Please confirm the access profile with "Accept" to be able to use the access.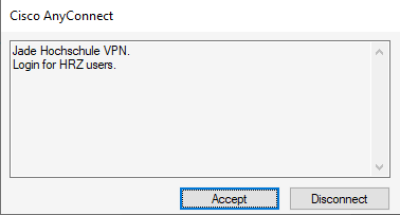 After the successful login, you will find the client in the info area of the taskbar (system tray)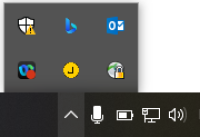 You can check the status of your connection by clicking on the client icon.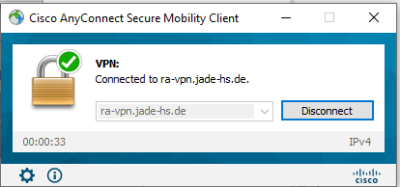 Disconnecting is also done in this way.

If you have any questions about the connection, please contact the University Computer Centre via the ticket system.

en/tp/vpn/cisco.txt · Last modified: 2021/12/20 19:37 by vi1005
---